Doesn't time fly?! I can't believe the course is only 2 days away!
As always, we seem to have a fantastically diverse set of delegates for this course – are you going to be one of them?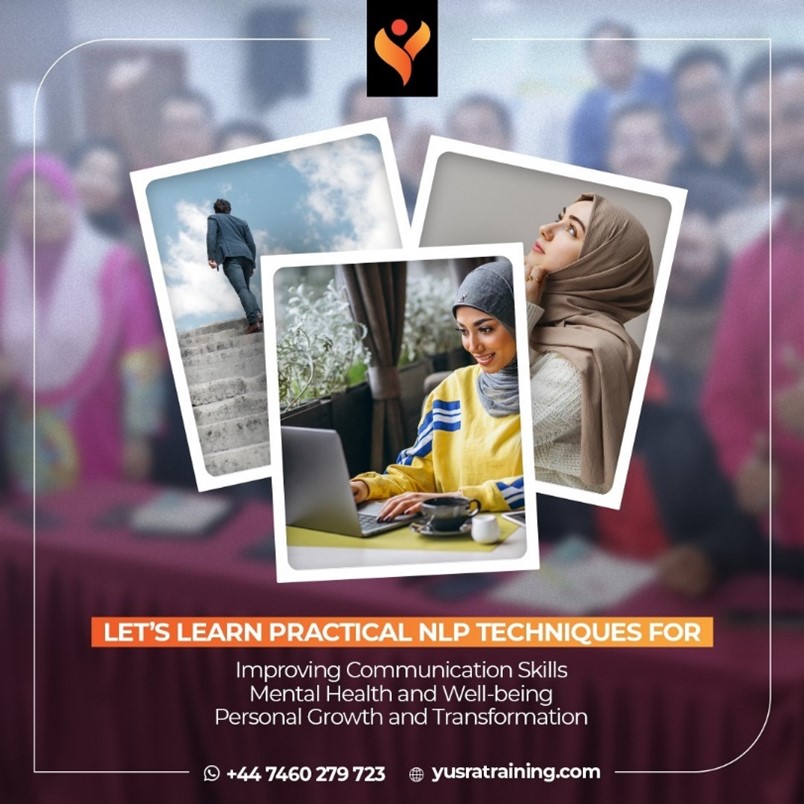 Here are some more testimonials, including from the last online training that I ran:
The resources were very clear

and easy to follow. The pace of the learning was steady. This is a fantastic program which had a much greater impact for me than I had anticipated. To my knowledge it is one of the very best NLP trainings delivered online. I have learnt so much in such a short space of time even I can't believe it. The knowledge I have acquired will influence me in all walks of my life, personal and professional.

(Zahidah J)

Amazing

!

The training has empowered me both spiritually and mentally. The experience, subject knowledge and the passion shone through in Abu Yusra's perfect delivery of the course. This experience has been like none other! For a course being delivered online I wasn't sure what to expect. But it worked! It worked beautifully!! Level of support that Abu Yusra has given has been invaluable. Each session was delivered with such eloquence and professionalism and his passion for the subject was very apparent which made all the sessions exciting and enjoyable. My mind, body and soul feel energised and empowered. I look forward to what the future hold for me. Thank you Abu Yusra for such an amazing experience.

(Joweria M)

It was a great course

led by a professional trainer who was very patient with his learners. Abu Yusra was excellent in the way he delivered his training. His wonderful stories added to a well thought out course. He added a personal touch by combining a spiritual approach to it. Brilliant course that filled all the gaps in my work and personal life. A new door has opened for me to a greater place NLP.

(Nazma P)

The training was excellent

and supported all styles of learning. The breakout groups were very supportive and allowed an opportunity to practice the techniques. The NLP course with Yusra Training is an excellent course of high quality. The course covers all aspects of NLP and supports full practice of the techniques. Anyone who wants to learn NLP need look no further than Yusra Training.

(Margaret D)

I'm so glad I chose Yusra Training

to start my NLP journey with. I'm feeling motivated and inspired. Thank you Yusra Training for delivering a great course and giving me knowledge, feeling empowered and wanting to learn more. Abu Yusra went the extra mile for his participants and delivered his sessions with great passion.

(Sadaf N)
In order to help you with any further questions you may have, here is a selection of commonly asked questions and my answers:
What is NLP?
In simple terms, Neuro Linguistic Programming (NLP) is a series of models, techniques and strategies to help us better understand how the language we use influences the way we think and the results we get!
How can I benefit from using NLP?
NLP can have a positive effect on every aspect of your life. It can be used to move forward with some specific challenge or issue, or can be adopted more generically to make a difference to all areas of your life.
How does NLP work?
Have you ever done something so elegantly and effectively that it took your breath away? Have you had times where you were delighted at what you did and wondered how you did it?
NLP shows you how to understand and model your own successes, so that you can reproduce them. It is a way of discovering and unfolding your personal genius, a way of bringing out the best in yourself and others.
NLP is the study of excellence. It is the study of both the conscious and unconscious processes that combine to enable people to do what they do. The key to success is often unknown at a conscious level. Using NLP, you can elicit these unknown pieces.
You may want to improve your relationships, or eliminate an anxiety, or become more competitive in the marketplace. The key pieces are not found in the muscles, but in your inner thoughts, like words or pictures, or feelings or even beliefs. Once you know these unknown pieces you can change them. NLP exercises are like thought experiments, mental exercises or a game. The laboratory is your mind.
I know you'll be keen to sign-up, but what if you wanted to bring a friend along? Well, with you in mind, I have a 'buy one, get another at half price' ticket offer. Click this link if you want to take advantage of that offer. Otherwise, for just a single ticket, click here.
I look forward to seeing you in the course and of helping you on your NLP journey just as I have with countless others. Book now!
Kind regards,
AY